TEI Earth Anchors
Earth Anchors are designed with sharp driving points and aerodynamic shapes to minimize resistance during driving.
The wings are designed to focus the Frustum cone and support the maximum load possible for their surface area.
The key feature of a driven Earth Anchor is the ability to rotate it 90 degrees to the line at which it was driven at the end of the drive depth. The distance required to do this is greatly enhanced by the addition of a rudder, unique to the Kite and Skyhook anchors.
The total surface area offered to the line of force creates a "Frustum" cone roughly shaped on the profile of the anchor.
It is the weight of the earth within this cone, added to the shear of the soil type, which results in the load which may be applied to the anchor.

Tighter Earth Anchor Information
Tighter Earth Anchor Data Sheet

TEI Earth Anchors Advantages

Proof load capacity of every anchor. No random testing. Ready to use immediately after driving, no waiting time for concrete to cure.

Environmentally friendly

Quick and easy to install using simple tools and equipment.

Light, high capacity anchoring system available in a range of anchor head materials and sizes to suit all applications.

Rigid anchor rods and flexible tendons with a variety of load attachment fittings available to suit any application.

Tailored designs to meet unique applications especially in tight locations with limited working area.

High quality technical support available.

All TEI Earth Anchors conform to relevant local and international standards.




TEI Earth Anchors Installation

The anchor is driven into the ground using a range of equipment. The hardness of the soil, and the depth the anchor is to be driven, governs the size of the equipment required to deliver the necessary energy. A full range of driving equipment is available through your local Kite and Skyhook installer.

Once the anchor is driven to depth, the drive steel is withdrawn. For small anchors , driven to shallow depths, this is a simple operation. For large anchors, driven to greater depths, the withdrawal of the rods will require mechanical assistance. The most important operation in the installation of an anchor is "Load Locking". This is the rotation of the anchor 90 degrees to the line of drive, and locking it in this position. Doing so creates the "Frustum" cone which determines the final load which can be applied. After "Load Locking", there is a range of options available for "Top Termination" and the installer can choose the one best suited to the application. The range of top terminations is infinite. TEI Earth Anchors are fast and efficient to install and they are environmentally friendly.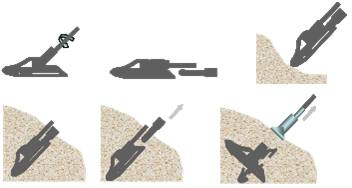 Earth Anchors Installation Example